Hatchards, the oldest bookshop in London, proved the ideal setting for the official launch last night of my book, While it is yet Day. When Hatchards opened its doors to the great British public in 1797, Elizabeth was 17 and wandering the beautiful grounds of her home at Earlham in Norfolk pondering her future.
Wandering through floor after floor of beautiful books at Hatchards last night, I felt it was right for Elizabeth to take her place here. And yes, I felt proud to have brought her here.
It was a lovely evening in all senses. Publisher Helen Bowden and I were delighted to welcome Artemis Cooper, writer and biographer, who said some very complimentary things about the book and Elizabeth Fry. Thank you, Artemis. Then I outlined Elizabeth's life and some of the many reasons I admire her.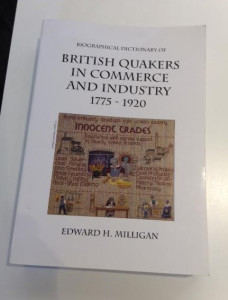 As books disappeared off the display table and out into the public domain, guests mingled and enjoyed a glass of wine and some canapes. We were so pleased that the 93 year old Quaker historian, Ted Milligan was able to join us. Ted was librarian at Friends House, London for 25 years and is the author of the award-winning Biographical Dictionary of British Quakers in Commence and Industry 1775 – 1920.
I was touched by how many close friends and family came from far and wide to celebrate with us all. Now we look forward to the book, a most beautiful production by Orphans Publishing, receiving the appreciation it deserves. It's a good read so, go on, enjoy!
Tagged with: book launch • Elizabeth Fry • promotion • publishing • While it is yet Day