On our recent tour of Norwich, The Boss and I, tired and hungry found this wonderful building by accident. It was after 5pm and we had skipped lunch and, don't tell anyone, but we had got lost again.
To our amazement we drove past The Assembly House, beautifully illuminated in the winter dusk, and right next door was a car park, with spaces. We wondered what it was, a museum, a gallery? 'I bet it's about to close,' said I, wearily. Not a bit of it. Tea, carrot cake and lemon drizzle were in front of us in no time as we sank into comforting leather sofas.
We were spell bound. High ceilings, spectacular mouldings and cornices, chandeliers, balconies and ornate fireplaces. Rather what we thought Earlham Hall might have been like in Elizabeth Fry's day. It is a Grade 1 listed building adjoining Chapelfield and Theatre Street and was designed by architect Sir Thomas Ivory in 1754. But it started life in 1248 when John Le Brun founded a hospital and Chapel in The Fields. It became known as Chapelfield and for 300 years remained a venue for civic celebration and feast.
It had a checkered history for years until Sir Thomas's second plan [his first was too costly!] was accepted by the city and the Grand Assembly Rooms came into existence. For 100 years they were the city's most exciting venue for grand balls, drama and dance, lectures and travelling circus shows. Madame Tussaud displayed her wax works here and Franz Liszt played but was not popular and never returned.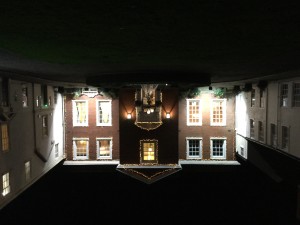 Troubled years followed until 1930 when the Norwich Society persuaded English Heritage to list the building and save it for posterity. During the Second World War it was used by the Eastern Region's Army Camouflage School headed by the famous stage and film set designer Oliver Messel. It was damaged during the Blitz in June 1942 but Messel's team managed to save it. Then Messel persuaded the Norwich shoe manufacturer, H.J. Sexton to help him restore the beautiful Georgian building to its former glory and it re-opened to the public in 1950.
More trouble lay ahead and a terrible fire engulfed the building in April 1995 destroying the Music Room, restaurant and Grand Hall. Fortunately much of the plasterwork and some of the paintings and furniture were saved and after 18 months of restoration it opened again on Valentine's Day 1997.
For six years local restauranteurs Richard Hughes and Iain Wilson have been running the House which has become a popular meeting place and hosts many clubs and societies. Art exhibitions, concerts, plays and lectures are held and it is the home of the Norwich Society and also of the Great Hall Theatre Company. Weddings and other celebrations are held in the ornate rooms; rooms are even available for conferences and seminars.
For us though it provided a welcome oasis of warmth and rest and a fascinating place to explore.  One day I hope to return and sample their legendary Afternoon Tea. Here's the menu for their current festive tea:
A selection of dainty finger sandwiches to include:
Roast Norfolk turkey, stuffing and cranberry

Cley Smokehouse salmon, cracked pepper

Cream cheese and cucumber

Free-range egg and cress

Cheese, Colman's mustard and chive scone

Cranberry and clementine scone, Norfolk

strawberry jam and clotted cream

Choice of loose leaf teas and tisanes

Glass of champagne [optional]
It makes me wonder what sort of afternoon tea Elizabeth Fry would have served to her visitors at St. Mildred's Court in London. When her friend Amelia Opie called on her, it was felt that "…no one in London could serve a better dish of five o'clock tea than Mrs Joseph Fry who had the pick of the market from her husband's warehouse." Fry's imported tea, spices and other delicacies in their warehouse next door. Traditionally, Afternoon Tea comprised delicate finger sandwiches and something sweet – little cakes or a slice of cake – and a choice of loose leaf teas, to ward off hunger between breakfast and dinner.
Tagged with: Book Tour • commentary • Elizabeth Fry • Norfolk • Quaker