I was proud to see Elizabeth Fry's headstone refurbished at Wanstead Meeting House in Leytonstone recently. Some years ago, my husband and I visited and the stone was illegible and lopsided and somehow this upset me very much. A woman such as Elizabeth deserved more respect, I felt.
Wanstead Friends have done her proud now and the stone has been cleaned and re-engraved. She and her husband Joseph are buried at Barking but their stone was moved to Wanstead for safe keeping. It is an aspect of Quakerism that I admire: all headstones must be similar, reminding us that we are all equal.
Helen Bowden of Orphans Publishing [publishers of While It Is Yet Day] and I went to Wanstead together, bravely finding our way via the Underground with the help of Citymapper – two country women embracing the city! There we met Friends, Roger Estop and Cliff Hendon who showed us around. The Meeting rooms looked a little bare with stacked chairs but the library was fascinating and we were delighted to find Quaker historian Ted Milligan's wonderful book which includes a record of the founder of Orphans, Quaker philanthropist Henry Stanley Newman. We were very pleased to add While It Is Yet Day to the shelves.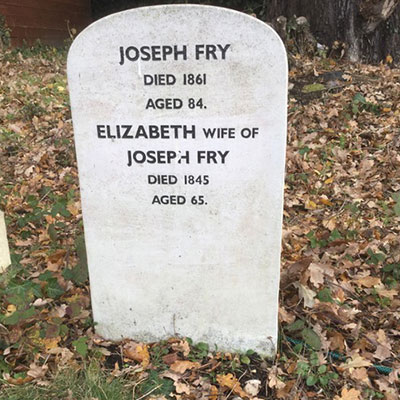 Cliff explained that the Meeting House and burial ground are on land which is part of Epping Forest. In 1874 the City of London Corporation won a legal action whereby land enclosed after 1851 had to be returned to the forest. Wanstead's land was safe because it was occupied by a religious society.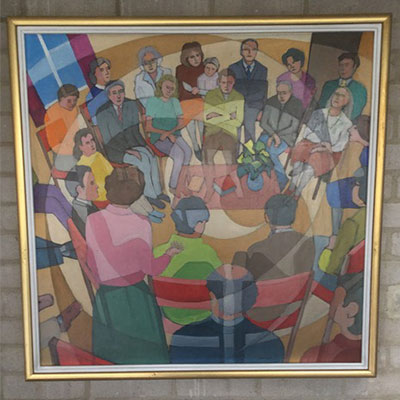 I had suggested to Roger that he find somewhere for the four of us to have lunch. "I tried hard to think of a place that Elizabeth Fry might have chosen," he said thoughtfully. Then he led us to an enchanting cafe, All You Read is Love! It offered coffee, books, wine, beer, cocktails, food and cakes. All home-made. An old typewriter sat in the window and there were bookcases, exotic murals, bunting and people just sitting, read, chatting. Elizabeth would indeed have loved it! So did we.
Over home-made quiche and coffee we shared thoughts and memories and were very reluctant to leave when another appointment called. It was a special time, thank you Roger and Cliff.