Everyone at the Old Rectory on Yarmouth road looked after us well. Refreshed after a good night's rest, we set off into Norwich and managed to negotiate the one-way system and find  parking at the Castle Mall. Our first stop was Waterstones, a lovely shop with an airy feel and a small cafe at the back. They were still awaiting delivery of While it is yet Day so The Boss was on the case immediately.
Next stop was an unusual book shop nearby aptly named The Book Hive. It was on the way here that we found ourselves on Opie street [Elizabeth Fry's great friend, Amelia Alderson married the painter John Opie] and discovered the soleful statue of a woman standing proud on the rooftops.  EF? Amelia? I am still waiting for someone to tell me about this lonely lady…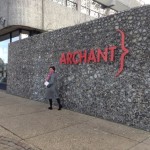 In haste then to find the Archant building so that The Boss could deliver a review copy of our book for the Eastern Daily Press and Norwich Evening News. Archant is an impressive company founded in 1845, the year that Elizabeth Fry died. It employs around 1800 people. The building at Prospect House is big and modern and has an unusual bronze, 'Public Sculpture', outside by the British modernist sculptor Bernard Meadows [b. 1915 d. 2005].
Finding the car was an adventure. No one told us there were TWO Castle Mall car parks and having paid our ticket we could not find the car…Sound familiar? Well, we had a genuine reason on this occasion. Thankfully a charming young man and his wife walked with us for what seemed like miles until we found the right car park.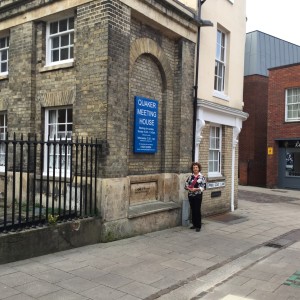 Then of course it took us ages and many wrong turns before we found our way through the one-way streets to Upper Goat Lane where we were to join some local Quakers after Meeting. This was exciting for me because it was here that Elizabeth Gurney and Joseph Fry were married – two young people trembling at the enormity of the occasion. The Friends greeted us with a welcome cup of tea and we were taken on a tour of the building alas, not the same one as in Elizabeth's day but re-built on the same site with a striking grade 2* listed entrance.
The wood panelling and high windows reminded me so much of the Meeting House I attended as a child at Eustace Street in Dublin. At Goats [as EF described it] they have large and small Meeting Houses, a gallery, a long room where we had tea, a committee room, library and garden. An oasis of calm in the centre of town. Thank you all for the welcome, the tea and the fascinating conversation.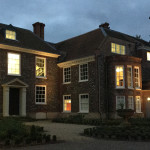 We rushed off to Earlham Hall, Elizabeth's childhood home which is now part of the Law Faculty of the University of East Anglia. Okay so I admit it – yes, we got lost again but another warm welcome awaited us. We toured the house and I felt nothing – no trace of EF remains. Even in the eleven-sided attic where she started her school, nothing. But when we wandered outside, even The Boss felt it. A distinct feeling that this might have been something EF had seen looking back from the garden towards her beloved home. It gave us both a prickly feeling of deja vu and we were happy.
We had two further adventures before the day was out and, yes, you guessed it, we got lost again. There was no time for lunch and we were hungry but we couldn't find anywhere to stop. At last getting lost and taking a wrong turn proved serendipitous. There before us, beautifully lit up with fairy lights and looking like a mirage we discovered the amazing Assembly House. Read more about the Assembly House.
Afterwards, we found our way back to the Old Rectory to relax and have dinner. Owner Chris Entwistle was quite right – the food was exceptional – and the wine. No wonder they call themselves a restaurant with rooms. It is a former rectory dating back to 1754 [26 years before EF was born] and has a lovely drawing room, pretty garden and outdoor swimming pool. We got into some interesting and controversial conversation with other guests and once they heard about While it is yet Day, they insisted on buying copies. One copy will find its way to York Meeting House…who says there is no such thing as coincidences…   
Tagged with: Book Tour • Elizabeth Fry • Norfolk • Norwich • promotion • Quaker • While it is yet Day